Shell Island Garden Club Visits In The Garden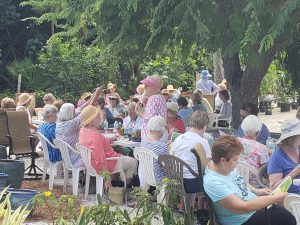 The Shell Islands Garden Club had their November club meeting at in the garden.  They enjoyed their lunch under the tamarind tree and were treated to a discussion about succulents lead by Jake Tomlinson, the certified horticulturist at In The Garden.  They each planted up a succulent garden to take home.
R.S. Walsh Landscaping Celebrates 5th Anniversary of In The Garden By Giving Back to Island Charities
In The Garden – Sanibel's Retail Garden Center & Outdoor Showroom is celebrating five years in business by giving back to five Sanibel and Captiva charities. Through the month of April In The Garden pledged to donate $5.00 for every "Like" their Facebook page received. 354 individuals liked the page and In The Garden will split the $1,770 donation between the Captiva Island Historical Society, the Clinic for the Rehabilitation of Wildlife (C.R.O.W.), Children's Education Center of the Islands, F.I.S.H. of Sanibel-Captiva and the Sanibel Historical Museum and Village.
"Island residents and businesses have embraced and supported In The Garden for five years and we are showing our appreciation by giving back to charities that are the backbone of our island community," said Robert Walsh, president of R.S. Walsh Landscaping and owner of In The Garden.
In The Garden – Sanibel's Retail Garden Center & Outdoor Showroom is a tropical outdoor showroom, retail garden center and plant nursery showcasing the latest in landscape design and outdoor living ideas. Experienced staff assist customers in choosing the right plants for our unique climate and how to maintain them. In The Garden also features an Asian-inspired statuary and a gift shop with beautiful and fun accents to complement the beauty of the islands we call home.
In The Garden is located at 3889 Sanibel Captiva Road, across from the Sanibel School, and is open Monday through Friday from 10:00 a.m. until 4:00 p.m. and on Saturday from 9:00 a.m. until 1:00 p.m. R.S. Walsh Landscaping is a family-owned and operated, full-service landscape design-build Company specializing in landscape design, installation, and maintenance. For 30 years, R.S. Walsh has been committed to superior workmanship, the highest standard of materials and the constant pursuit of excellence. For more information call (239) 395-5859 or visit www.rswalsh.com.