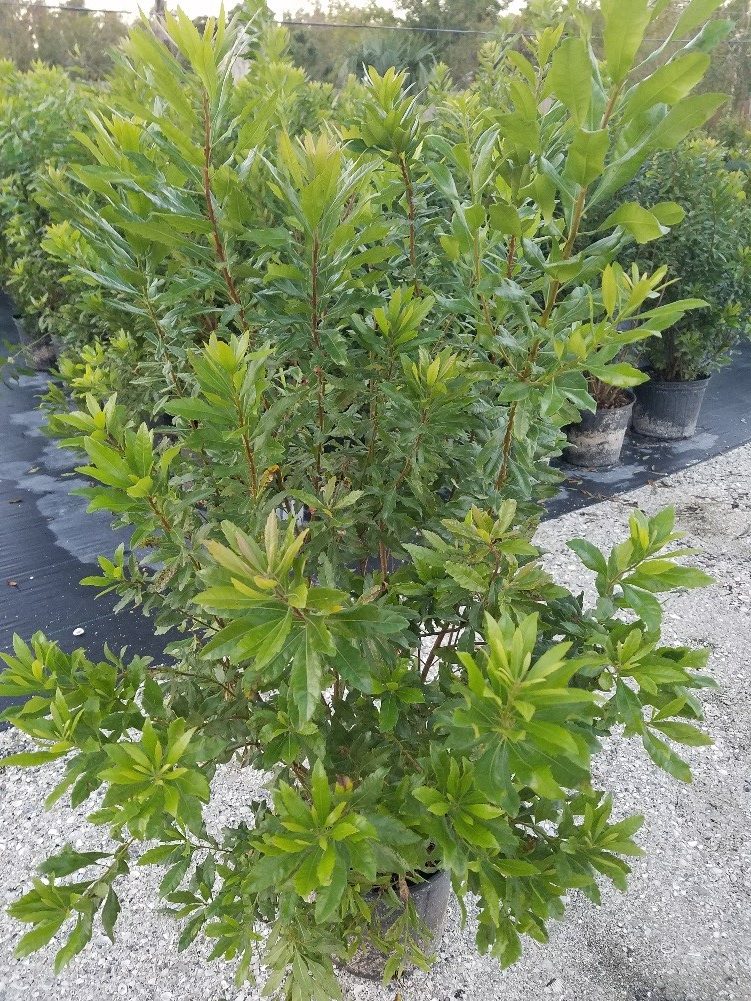 Wax Myrtle – A Hardy Island Native
Wax Myrtle (Myrica cerifera) is a native plant that can take whatever conditions our islands can dish out. This variety of Myrica is found mainly in the Southeastern United States. It thrives in the heat or the cold, is salt tolerant and can do well in either sandy dry conditions as well as in wet areas. The Wax Myrtle is evergreen and grows naturally as a multi-stem shrub. It is commonly used as an ornamental shrub in the landscape, but also is found in natural native areas. This plant naturally grows in an upright bush form and will grow up to 20' high. Regular pruning will make this shrub stronger, trimming out the more brittle branches. Also with its dense small leaf pattern, you can keep it trimmed to a more formal, hedge type look if desired. While this plant can be grown in a tree shape, its fast growth rate makes it a good choice for a native privacy hedge.
The leaves of this plant are small and oblong shaped with serrated edges. Its foliage is aromatic and the early American colonists sometimes made bayberry scented candles from the fruit's waxy, bluish coating earning it the name of Southern Bayberry. The fruit produced is also a source of food for many varieties of birds and is a favorite of the bobwhite quail and wild turkey in woodland conditions across the Southeastern states.
This native shrub is a natural for all types of environments and conditions on our islands. Enjoy the versatile Wax Myrtle.
This column is a joint effort by all at In The Garden, a Sanibel garden center located at 3889 Sanibel Captiva Rd., Sanibel, Florida.
---
---